Are you running with a stress fracture?
by Onward Physical Therapy | August 1, 2022 |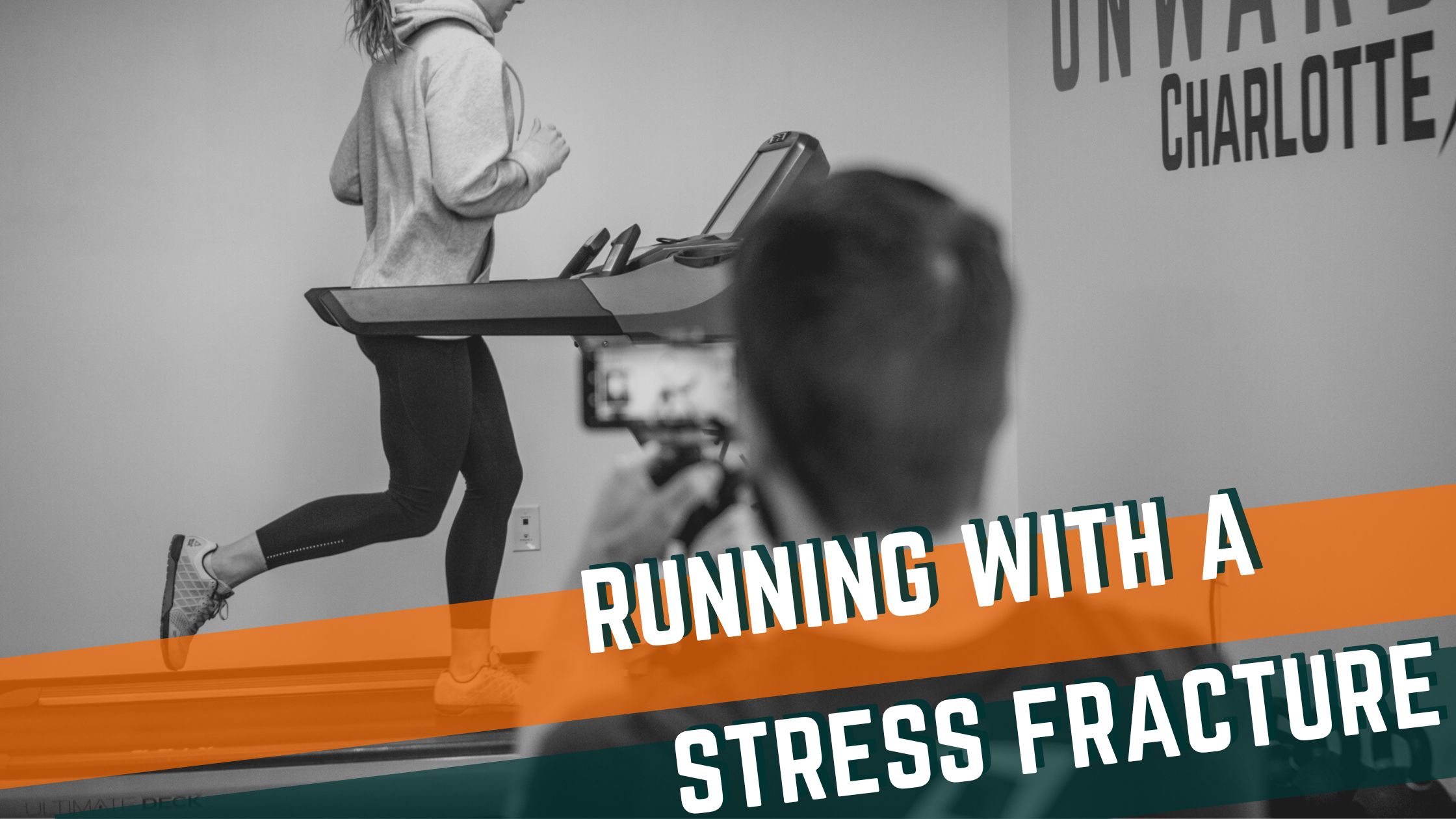 Running with a stress fracture or a bone stress injury can lead to further injury if not properly managed and treated.
Bone stress injuries (BSI) and Bone Stress Fractures are a commonly under-diagnosed running related injury. But many athletes are running with a stress fracture (or bone stress injury), thinking it is a simple muscle strain or tendinitis. But bone stress fractures are significantly more challenging of a rehab process and more dangerous in terms of potentially leading to the end of your running career if not properly managed.
What is a Bone Stress Injury?
Bone stress injuries occur when bones cannot adapt quick enough to repeated mechanical loading, aka the pounding on the road as you run. This results in boney structural fatigue, bone marrow and periosteal edema which eventually becomes local bone pain and tenderness.
If left untreated a bone stress injury can progress into a stress fracture. Stress fractures account for more than 10% of all sport-related injuries, and can be as high as 30% in running related injuries. About 50% of track and field athletes report 1 or more histories of BSI, and up to 12% of cross-country and track athletes with a BSI history are reported to have continued BSI for the next 1–2 years.
The following illustrates the progress that a bone stress injury moves through from normal remodeling all the way to a complete bone fracture.

Running with a Stress Fracture
Common Areas of Bone Stress Injuries in Runners
The following table outlines the most common areas of stress fractures in runners.
The anatomical location of a bone stress injury is an important factor when considering healing times and risk of future complications if poorly managed. 
Low Risk sites are exposed more to compressive forces and can have quicker healing times.
High Risk sites which are exposed more to tensile loads, have reduced blood flow in comparison, and are at more risk for long term serious complications.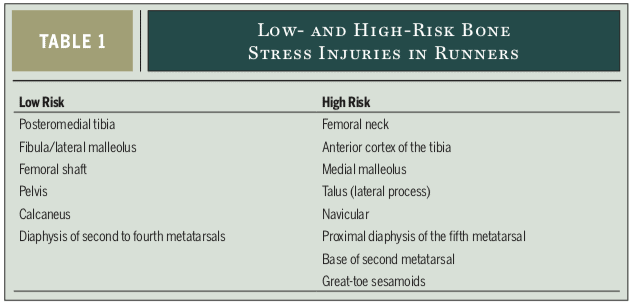 Rear foot strikers will typically see a stress reaction occur in the tibia and femur where forefoot strikers will typically have bone stress injuries happen in the foot.
Running with a Stress Fracture – Biological and Biomechanical Factors
Diagnosing a bone stress injury can be challenging and we cannot recommend enough to seek out out a running rehab specialist to help you navigate this injury. The table below outlines important factors for consideration when suspecting a BSI. 
The purpose of this article is to not get into the weeds with each factor but we want to highlight the importance of both training pattern/running mechanics, foot wear, running surface as it's estimated that north of  60% of running related injuries are caused by training error. Also RED-S, which was once coined the female athlete triad should be screened and examined with everyone who is suspected to have a BSI. To learn more about RED-S, click HERE to read our blog on the topic.

Stress Fracture Symptoms & Diagnosis
Symptoms of a stress Fracture:
Bone Tenderness

Potential pain with:

Running

Single leg stance OR unloading a single leg stance 

Single leg hopping

Stairs
The gold standard for ruling in a BSI is an MRI or bone scan. Xray's which are usually the first line of imaging frequently will miss a bone stress reaction/fracture. If a BSI is suspected again, it's imperative to consult with your running rehab professional and get the proper imaging.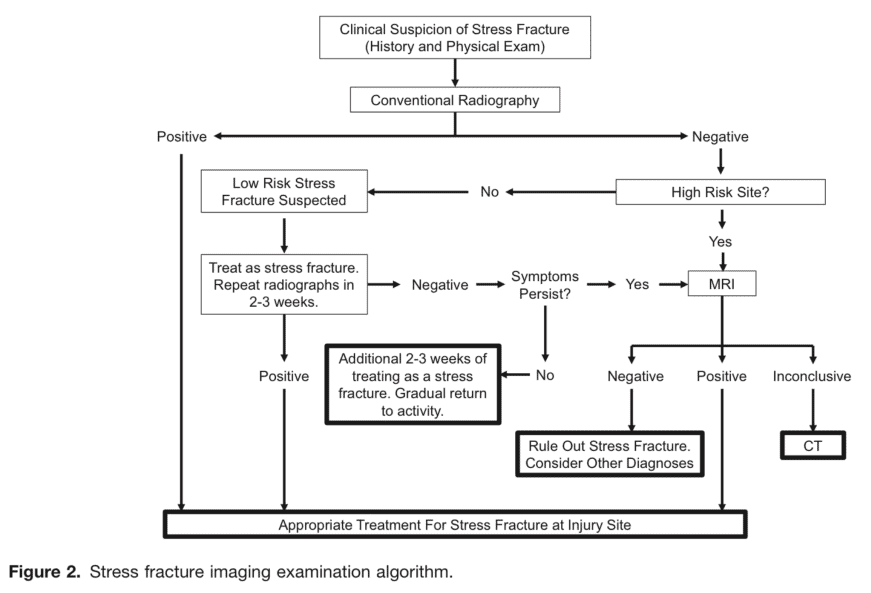 Should I be immobilized or put in a boot or crutches? 
As with many answers in the PT world, it depends. We know unloading or immobilizing a limb is "catabolic" in nature to both bones and tendons meaning both structures WILL degenerate and get weaker if there is no load through it. 
If there is a suspected or confirmed bone stress injury we WANT to stay away from any and all pain and discomfort with weight bearing activities to ensure proper healing. Ultimately it is up to your doctor and running rehab specialist on whether this is a good option for you. 
Returning to Running with a Stress Fracture
When rehabbing a bone stress injury or stress fracture, it is crucial  that you seek out a running rehab specialist in your area or via telehealth as it can be extremely difficult to diagnose which can potentially lead to life altering complications if not detected early. 
An experienced running rehab specialist will be able to help navigate the strength, mobility, training mileage, and lifestyle factors that are crucial to you being able to return to running with a stress fracture. Far too often we see athletes that have been told to rest for 2 months and then are released back to running only to have the same issue arise a few months later.
At Onward Physical Therapy we specialize in treating runners and their return to running after bone stress injuries and fractures. We also offer in-depth running analysis which is a crucial and necessary component to recovery from BSI to improve running technique/performance to set you up for long term running success. 
References
Song SH, Koo JH.   Bone Stress Injuries in Runners: a Review for Raising Interest in Stress Fractures in Korea.  J Korean Med Sci. 2020;35(8):e38.

Warden SJ, Davis IS, Fredericson M. Management and prevention of bone stress injuries in long-distance runners. J Orthop Sports Phys Ther. 2014;44(10):749–765.

Goolsby MA, Boniquit N. Bone Health in Athletes. Sports Health. 2017;9(2):108–117.