Bike fitting services are available in the following areas
Click Below to Schedule at your nearest location today!
What Does a professional bike fitting Look Like?
At Onward, your Bike Fitting is performed by a medical professional. While we're happy to tweak your seat height, we specialize in a much more complex fit than what you'd expect from a local bike shop. Our highly trained therapists delve in to find the root cause of any pain, dysfunction, or performance gaps you may be experiencing from an ill-fitting bike. However, riding without pain requires an approach that takes into account the bike & the rider! So, if you're cycling through discomfort caused by previous injuries or movement abnormalities, we can help.
When it comes to bike fitting, a few millimeters and degrees, can mean hours and miles. Whether you're logging those miles on the pavement, or the dirt, we can help get you back to pain free cycling!
The Onward Bike Fit Process: What to expect.
Dynamic and static bike positioning assessment
Adjustments for correct positioning of saddle, cleat/pedal, and handlebars
Video analysis to detect problems in cycling form
Physical Therapy evaluation performed by a specialized PT.
Comprehensive muscle and joint assessment
Exercise prescription to correct imbalances and improve performance
Typically involves 1 to 2 visits, lasting 1 to 1.5 hours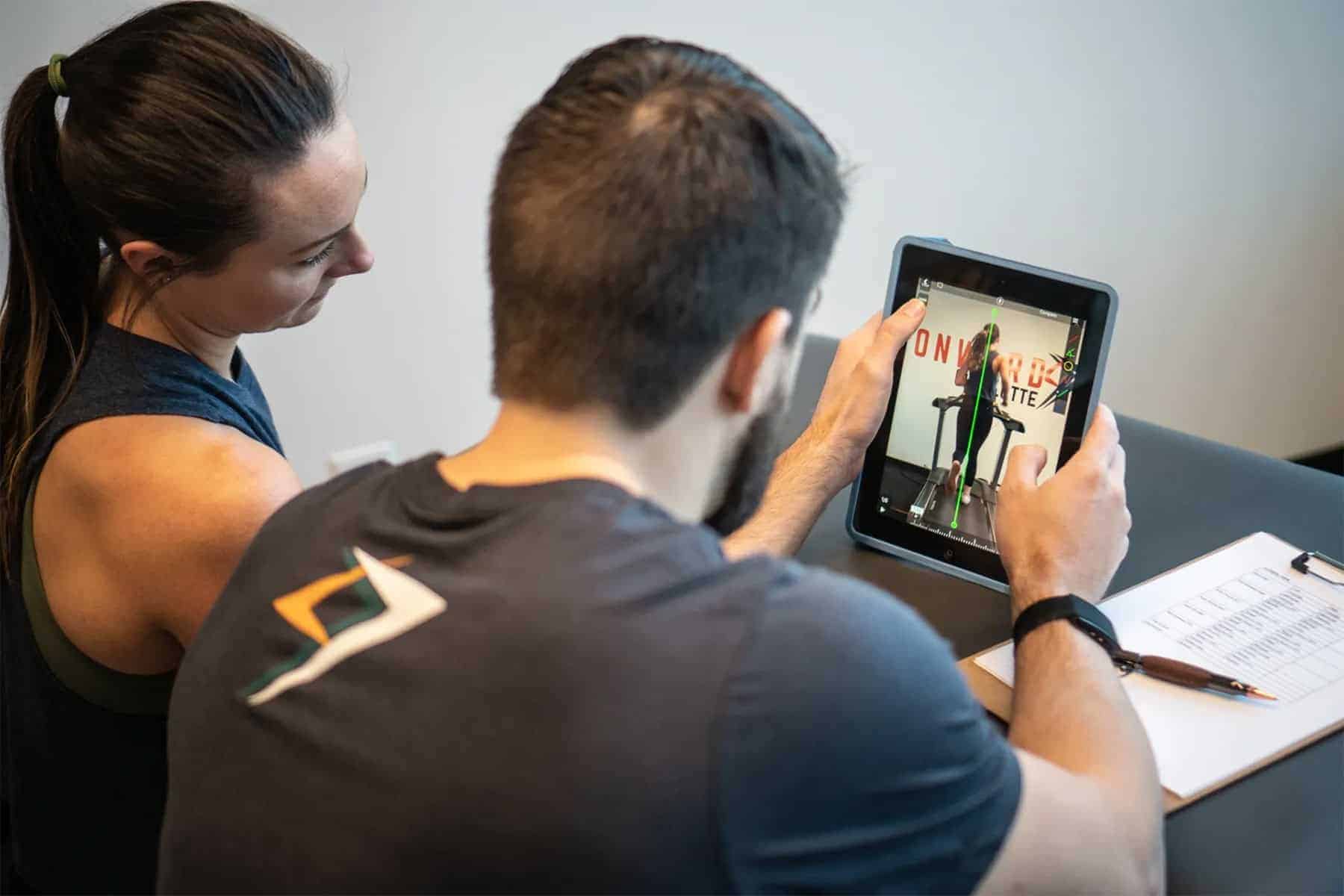 Following the above process, our doctors of physical therapy will make individualized adjustments to your bike set up to maximize your running performance and decrease injury risk. We will summarize your findings and provide exercise and/or training recommendations for improved performance.
Understanding where your training has been and where you want to go sets us up for maximizing your evaluation.
A full body assessment of your joint integrity, flexibility, strength, balance, and motor control.
Taking into account your goals, training history, and previous injuries, we will adjust your bike for optimal performance.

"I had accepted that my competitive running days were over. After working with other providers and not seeing anything but short-term changes I was feeling defeated. Then I went to Onward! They built my strength back up and did a detailed analysis of my running form. I was shocked how small tweaks created such huge changes. I'm not back to marathons yet, but I will be soon. Thanks for giving me hope again!"

"I cannot, CANNOT say enough great things about Onward. I found them when I began running and wanted to make sure I was doing all I could to prevent injury. Working with the team at Onward has pretty much CHANGED my life! "

"I visited for a running-related injury and they were quickly able to pinpoint the exact issue. Targeted exercises eased my pain and build strength where it was needed. The running analysis was very beneficial as well. Now I have a set plan to help get me back to running faster and stronger! Would highly recommend Onward to any runners out there!"