Tips for Better Sleep to Maximize Performance
by monique cofino | July 7, 2021 |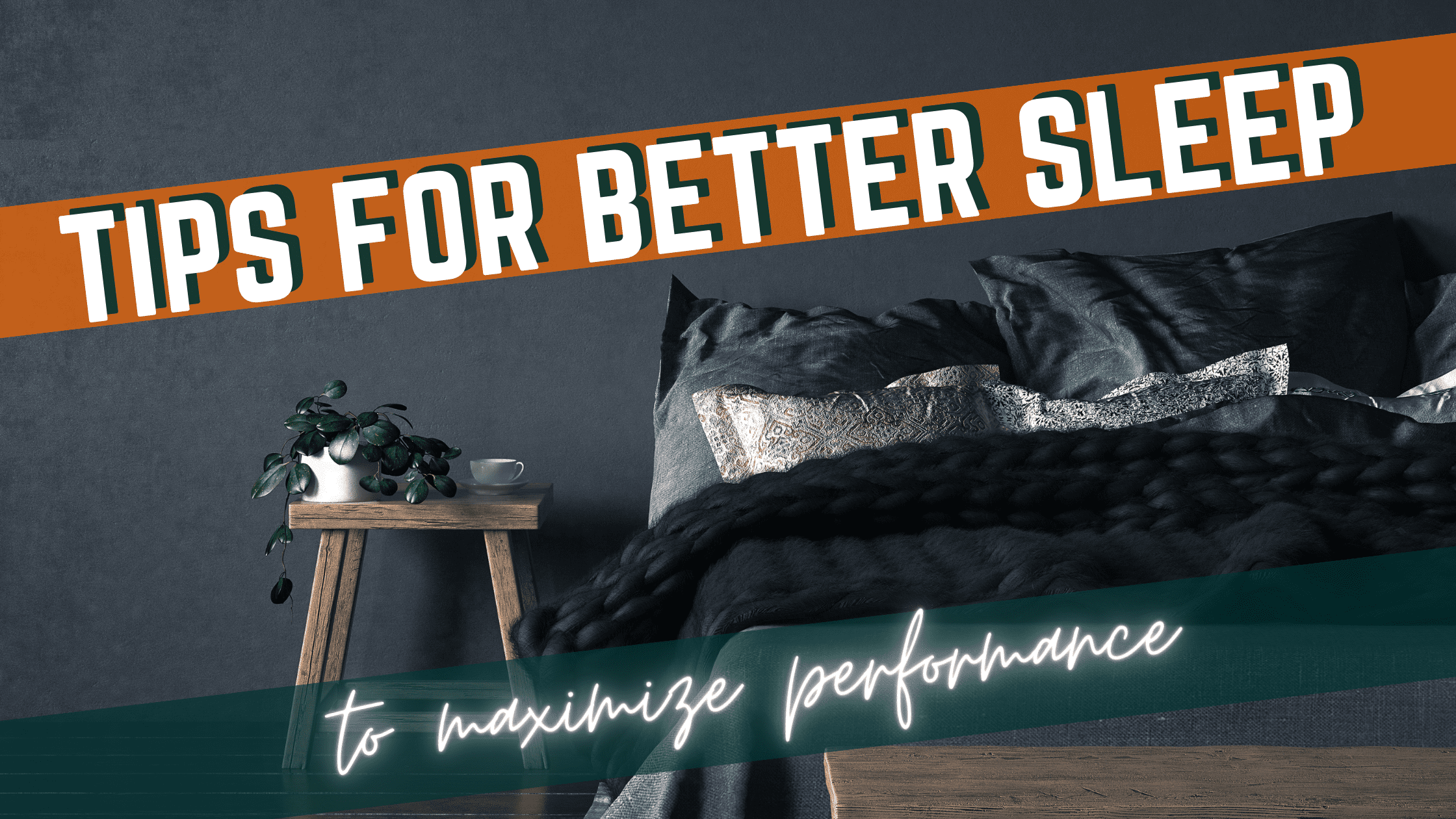 Let's face it, you've tried every thing in the book to get those 8 hours of sleep. But, nothing works. You feel like no amount of melatonin is going to do the trick. And you've finally thrown in the towel. Well, truth be told (and research agrees) is that there actually is no magic trick or pill that is going to improve your sleep. There are, however, HABITS that we know are proven to improve the quality of it. And, did you know that better sleep is correlated with decreased injury risk and improved performance? Here, we'll discuss seven tips for better sleep.
1. KEEP IT COLD – I mean pretty dang cold
How cold? Around 60 degrees Fahrenheit. The cold temperature slows down our heart rates. This allows our body to go into REM and deep sleep quicker and easier. These are sleep stages that promote recovery.
2. NO BLUE LIGHT within 2 hours of bed
There's a reason the tech geniuses are constantly adding features to your iPhones and Androids that alert you so often to breathe, stand, or close your activity ring circles. Notice the night feature on your iPhone or Android? There's a reason for that. Techs understand where research is supporting and how to support it.
iPhone users: In settings, go to Night Shift under Display & Brightness. Schedule the "Night Shift" feature 2 hours before you typically go to bed. As easy as that. Your phone will automatically switch OFF blue light for you.
Android users: the f.lux app feature enables the same benefits!
But, let's not stop there. I'm constantly coaching my athletes on their "wind down" time as a tip for better sleep. If your goal is to be in bed and asleep by 10:30pm, your "wind down" time should be at 10:00pm (30 min before sleep). This time is dedicated to setting distractions and screens aside so that the mind can unwind from the day, relax, and prepare for deep sleep.
3. WARM/HOT BATH before bed
Okay, we all know a warm bath feels good and is relaxing…right? But how does that really affect sleep? Without getting too "science-y" on you, warm/hot water opens up our blood vessels. This allows blood to flow easier throughout our body. In turn, the heart rate slows down and blood pressure reduces as these systems are not having to work as hard to pump blood. We also subsequently have deeper and slower breaths in this state, which allows the blood to become more oxygenated.
This process actually cools your internal body temperature! Counterintuitive, but fact! Because blood flow is being pushed away from your internal core temperature and out towards your extremities, this drops your internal core body temp. A lower body temp stimulates the natural production of melatonin to help us fall asleep quicker.
Conclusion + Tips for better sleep: shoot for a warm/hot bath 90 min before bed!
Tried to keep it less nerdy there…and like you really needed much more of an excuse to take a nice, warm bath! Check and done!
4. DINNER 2-3 hours before bed
The body is actually working pretty hard to digest that meal you just consumed. These processes take time, give off heat (think that internal core pressure), and can negatively affect our quality of sleep if eating too close to bedtime. But, I get it…you don't get home till 6pm. You've got to get your work out in (if you haven't already). You want to unwind or the kids have to be taken to practice at 6:30pm. Dinner takes an hour to prep and cook. Before you know it, it's 7:30 or 8pm. Which means you may not be done eating till 8 or 9pm.
Life gets busy. So, why not make it easier? Planning and making simple habits can significantly reduce the time it takes to prep/cook for dinner.
Tips for better sleep: Things like making sure the meat is taken out in the morning to defrost while you're at work, meal prepping, pre-cutting/seasoning veggies/meats so that they can easily be thrown in the oven as soon as you get home from work, etc. can go a long way to get that meal in well before bed.
5. CAFFEINE – Don't cut it out, just utilize a timeframe
Half life of caffeine is around 9 hours. Meaning, only 1/2 of the caffeine you consumed this morning is eliminated 9 hours afterwards! So, if your last cup of joe is at 12pm, you've still got half of it pumping through you by 9pm. Now, imagine if you had that afternoon coffee on top of that.
Tips for better sleep: Aim for keeping your last coffee within more than 6 hours of bed
6. ALCOHOL – may help you doze off sooner, but not better
There's a reason for the phrase "night cap". But what we know is that while alcohol may help us "pass out" quickly, it actually hinders our ability to get into "deep" and "REM" sleep. These are the stages that promote recovery and help us to maximize performance.
Tips for better sleep: Limit alcohol intake within 2-3 hours of bed
7. HEADSPACE, CALM APP or WHITE NOISE
Headspace and Calm are leading the pack in their efforts to improve individuals' mindfulness, sleep quality, and health. My personal favorite in the Headspace app is under the "Sleep" tab. It's called "Cabin Porch" and I switch it from "voice" to "ambiance". The calming noise truly helps me drown out creeks and other noises around the house to help me have better sleep.
Other tips for better sleep: consider investing in black out shades or eye shades!
Want to learn more about WHY WE SLEEP? This is Onward Atlanta's book recommendation for you!
Who is Onward Atlanta?
At Onward Atlanta, we look at the bigger picture – not just your pain. You're not heard here…you're heard well. We believe that maximizing performance doesn't end once you're out of pain. We believe in much more — the WHOLE PICTURE. Because, we know that is where long term and true change happens. Our thoroughness in evaluating your movement, stress, sleep, nutrition, and recovery is intentional in order to maximize your health and fitness.