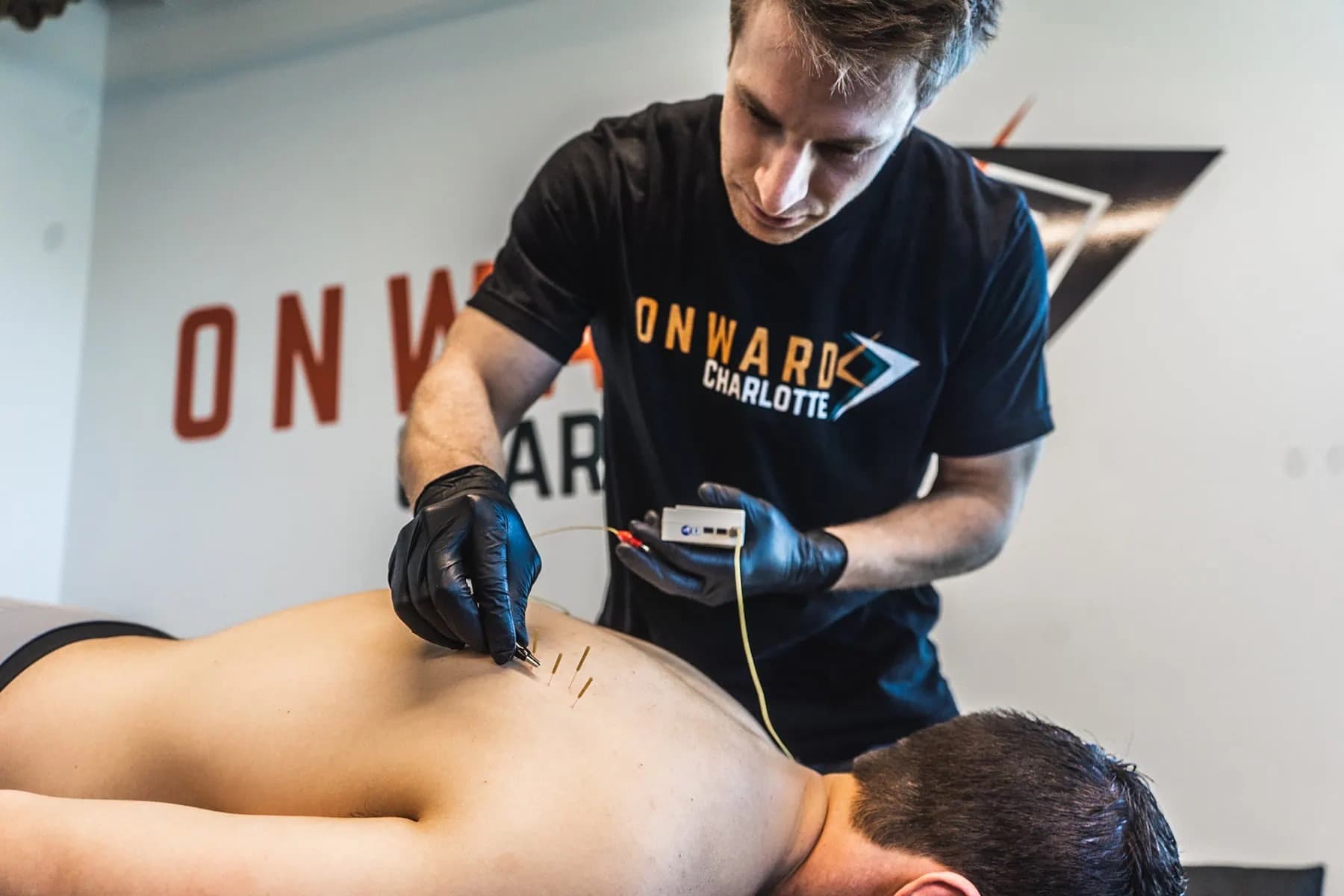 Dry Needling Physical Therapy for Pain Relief
Onward Physical Therapy - Dry Needling Specialists
Dry needling is available in the following areas
Click Below to Schedule at your nearest location today!
dry needling for Pain Relief
Living with pain is a frustrating experience that holds you back from the activities you love and makes daily life challenging. Breaking through the pain can be tricky and leave you feeling like there's no long-term solution.
A fantastic new tool that has worked for thousands of our clients in the physical therapy space is dry needling. Dry needling is an advanced physical therapy technique used to help relieve pain, reduce muscle tightness, and aid recovery after intense training sessions. Physical therapists trained in dry needling use thin needles inserted into specific muscle points to release tension and improve the chemical environment resulting in decreased pain.
At Onward, we go above and beyond traditional trigger point needling by using techniques that combine needling with mild electrical stimulation. This procedure gently inserts needles into the muscle and attaches them to electrical stimulation units. The electrical signals create a light contraction of the muscles resulting in reduced tension, improved blood flow, and sports recovery without the soreness experienced with trigger point dry needling.
While dry needling can be a very effective tool for various conditions, we always incorporate it within a more comprehensive plan to make sure you reach your goals. We believe every client needs and deserves tailored treatments that comprehensively address their unique presentation and lifestyle. By combining soft tissue techniques like dry needling with joint mobilizations and skilled exercise prescription, the Onward team is perfectly equipped to ensure you reach your health & fitness goals!
Book a consultation with us today, and let's embark on your recovery journey!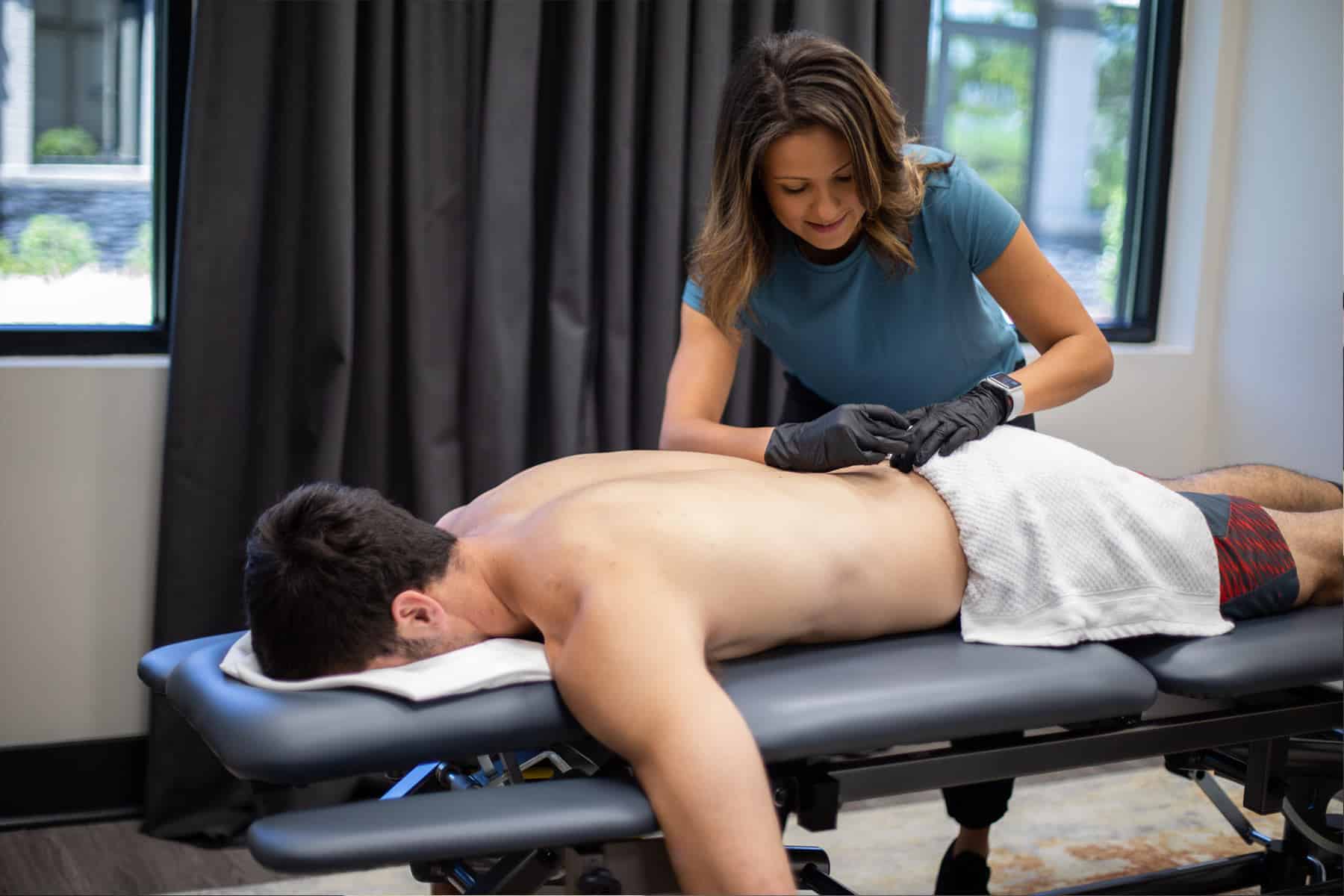 At Onward, our process for providing lasting relief to individuals suffering from back pain is simple, but incredibly effective. We utilize a combination of hands-on techniques and progressive exercises that are specifically tailored to you. All back pain is unique, and your treatment should be too!
From professional athletes, to weekend warriors, to those working desk jobs, and everything in between – we've helped people from all walks of life get their freedom back!
A variety of manual therapy techniques targeted towards the back and hips can provide rapid decreases in your pain levels and immediately improve your mobility.
A thorough and detailed examination to figure out what is actually causing your back pain, allowing us to not only eliminate your current pain in the short term, but prevent it from happening in the future!
Our long term solution with back pain treatment is to increase your mobility, strengthen the muscles of the back, hips, and core, and develop long term lifestyle strategies so that your pain no longer holds you back!

"I dealt with debilitating neck and shoulder pain that limited my ability to function as a manager and a mother. Thankfully, I found Dr. Monique Cofino who is the very best Dr. anyone could ask for!! She does amazing work and her patient care is awesome!"

"I have been struggling with back pain for over 8 years and it wasn't until I found Onward did I start to see relief. For years I skipped workouts with deadlifts and kettlebell swings because I knew they would wreck me for days. They immediately got down to the root of my problem and quickly relieved my pain. I am beyond thrilled with my experience and will never go anywhere else. Highly recommend."

"I came to Onward after years of chronic TMJ. I had changed my diet and had tried every mouthguard imaginable. But still, my jaw pain killed me every day. Treatment at Onward made an immediate impact. Weeks later, we've progressed to more strength and mobility work that has finally knocked my jaw pain out! So grateful I found this place!"