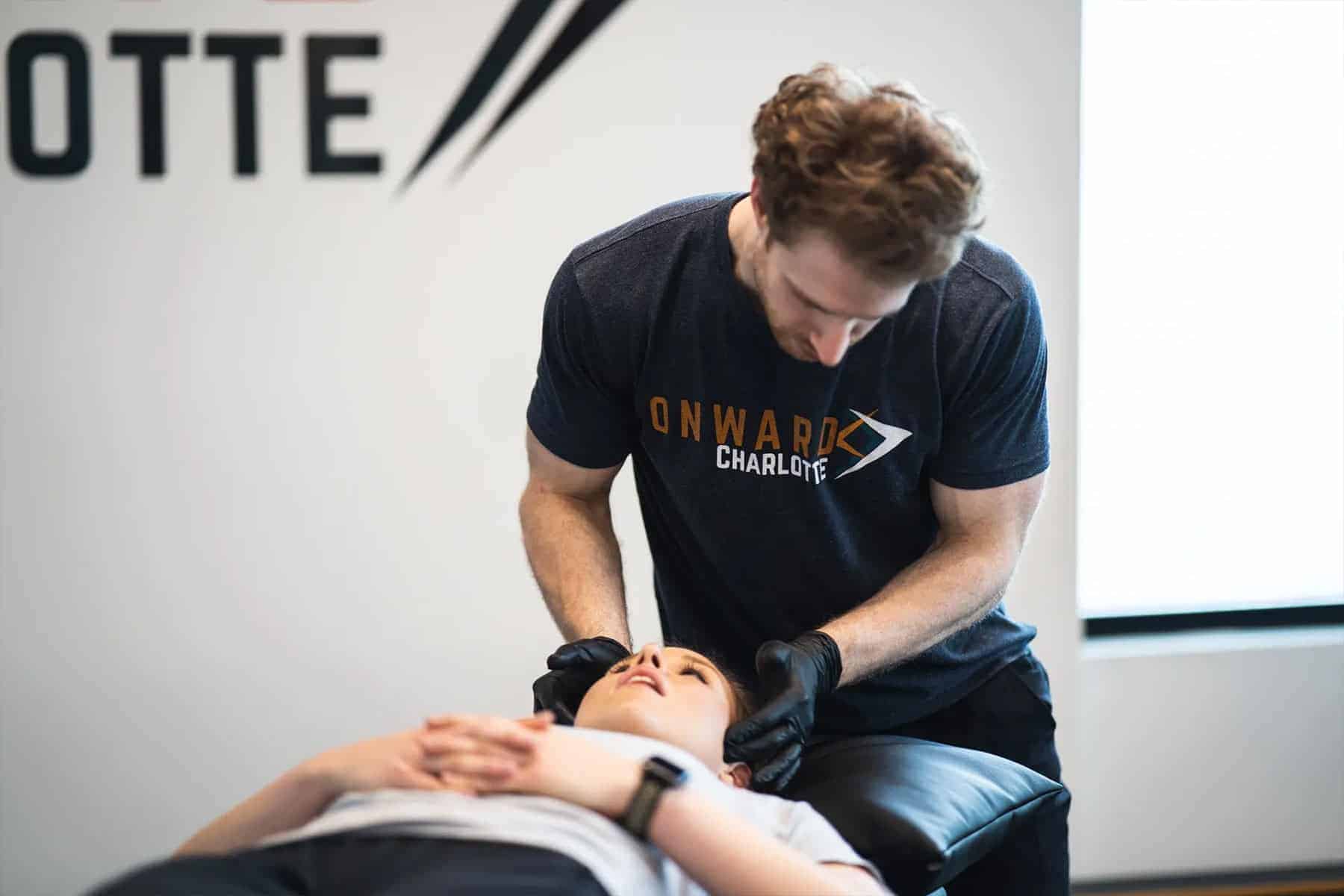 The temporomandibular joint (aka the TMJ) can create significant life disturbances when irritated. Unlike many other joints, there is no avoiding your TMJ pain. If your knee hurts with running, you can find a different way to exercise. Back pain with kettlebell swings? Let's substitute that in your workouts for something else.
But with TMJ pain, you can't simply avoid aggravating activites. You have to eat. You can't control laughter. You can't avoid having conversations with family and co-workers.
So you deal with it and suffer for far too long. You've tried night guards and medications with no real change.
At Onward, we have teammates that specialize in bringing relief to those suffering from chronic TMJ pain, as well as the neck pain and frequent headaches that often come with it. We would love the opportunity to help those wanting to regain their freedom of movement without surgeries, injections, or wasting time with ineffective treatments.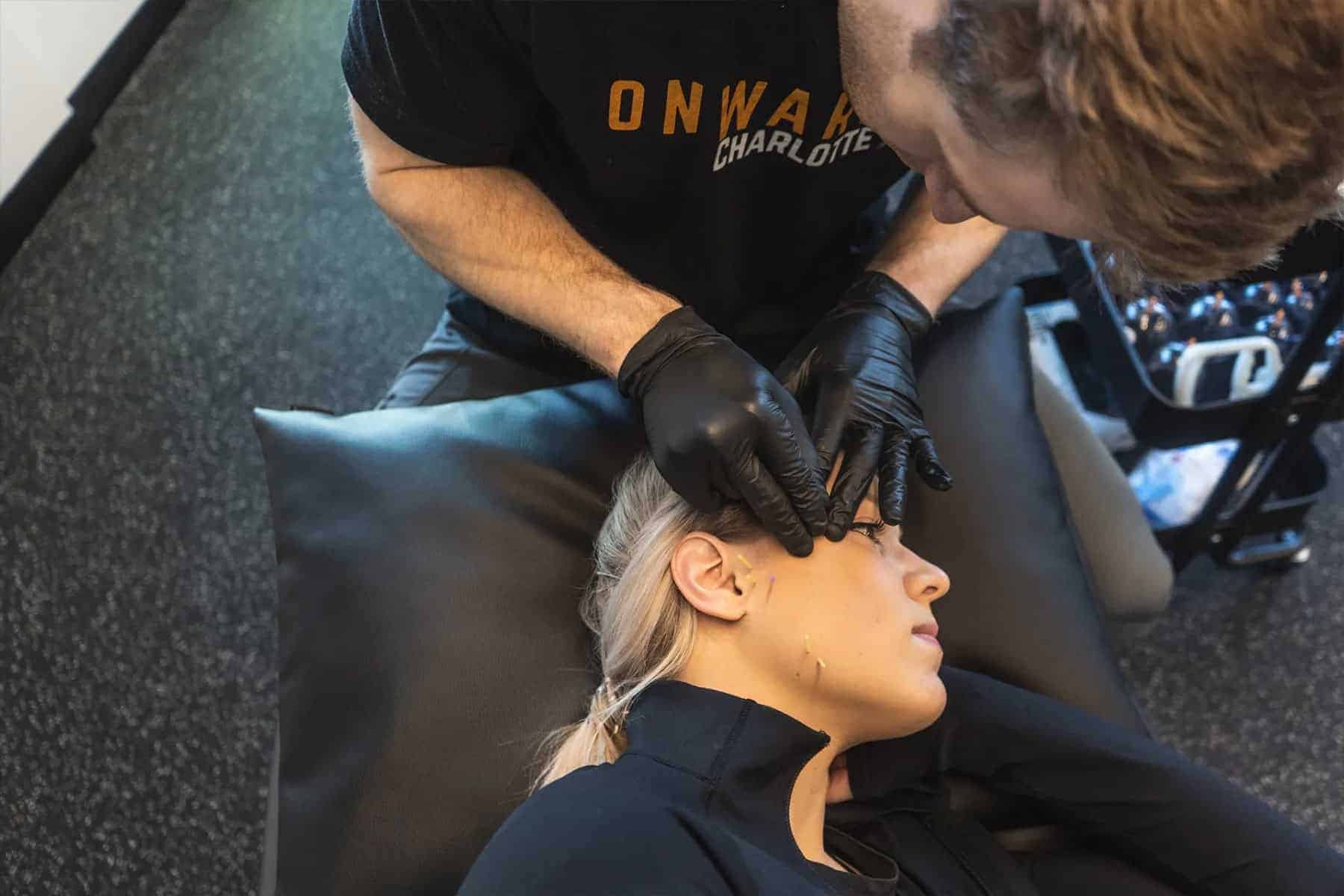 At Onward, our process for providing lasting relief to individuals suffering from TMJ pain is simple, but incredibly effective. We utilize a combination of hands-on techniques and progressive exercises that are specifically tailored to you. Every individual dealing with temporomandibular joint pain is unique, and your treatment should be too!
From professional athletes, to weekend warriors, to those working desk jobs, and everything in between – we've helped people from all walks of life get their freedom back!
A variety of manual therapy techniques targeting the jaw, neck, and upper back can provide rapid decreases in your pain levels and immediately improve your mobility.
A thorough and detailed examination to figure out what is actually causing your jaw pain, allowing us to not only eliminate your current jaw pain in the short term, but prevent it from happening in the future!
Our long term solution with TMJ treatment is to increase your mobility, relax and reduce tension in the jaw and neck muscles, and develop long term lifestyle strategies so that your jaw pain no longer hold you back!

"I was greeted with a firm handshake and a welcoming smile. It was an introduction to what I would come to know as a truly positive attitude that opened my eyes to what an extraordinarily skilled therapist could do. More than that, the hands-on techniques they used eased my pain almost 100 percent within the first few visits. As important, he gave me the tools, through exercises and movement, to help myself.
I am not overstating it a bit to say that the treatment I received was life changing and I am thankful every day."
~ Robert A.

"I came to Onward after years of chronic TMJ. I had changed my diet and had tried every mouthguard imaginable. But still, my jaw pain killed me every day. Treatment at Onward made an immediate impact. Weeks later, we've progressed to more strength and mobility work that has finally knocked my jaw pain out! So grateful I found this place!"

"Onward is an absolutely phenomenal place! I came in for increasing neck pain but was shocked to learn that the years of headache and jaw pain that had become part of my life were also connected. After several weeks of treatment and homework, my neck and jaw pain is gone! My headaches are a fraction of how frequent they were before coming to Onward."
~ Rachel L.